Vitamin shot for excessively dry hair that call for help is the newest proposition from Balmain. In the set of Hair Revitalizing Line are shampoo, conditioner and hair mask. What can this line surprise us with?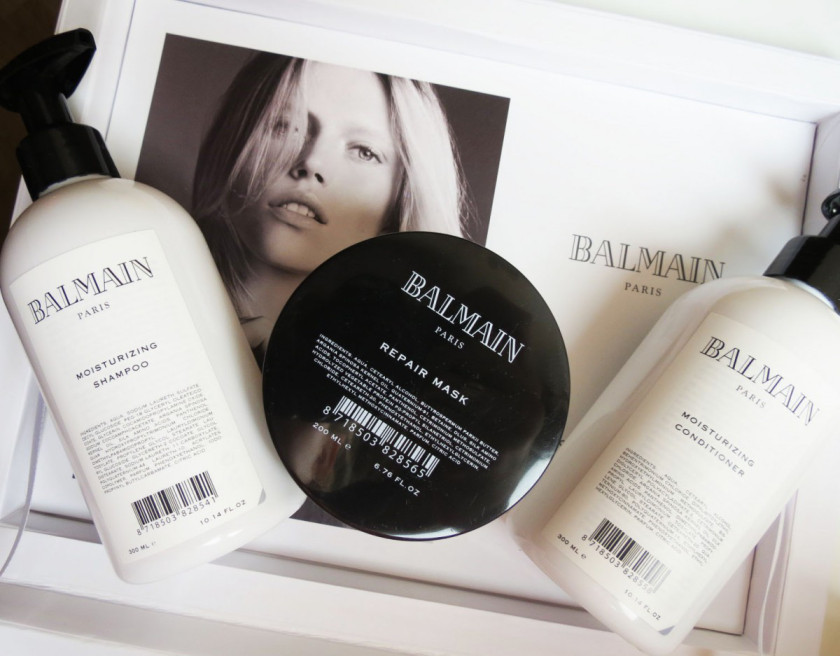 Our hair are influenced by many factors. One are positive, while other not so much and these damage sensitive hair structure. For example, warm sun rays, which at first are so nice, in fact are really damaging to hair. To take care of hair you must use right conditioning products to protect them not only against UV radiation.
Hair Revitalizing Line from Balmain is a great proposition for all owners of dry and damaged hair. The set of three nourishing cosmetics guarantees instant hair regeneration and hydration to the deepest hair structures.
Balmain Hair Revitalizing Line – shampoo
Shampoo in Hair Revitalising Line is a first step in regeneration of dry hair. The proposition from Balmain combines cleanse with revitalising properties. The greatest advantage of the shampoo is lack of parabens in the composition, but really high concentration of vitamins. For nourishment, moisture and appearance improvement is responsible vitamin E, while for the scalp takes care vitamin F. What is more, vitamin P impacts strengthening and nourishment of the streaks. This is the only shampoo that leaves hair smoother and softer.
Balmain Hair Revitalizing Line – conditioner
All hair care products work best when combined. The perfect complementation for properties of the shampoo is hair conditioner in Balmain Hair Revitalizing Line. The product was enriched with the complex of nourishing ingredients and even greater concentration of vitamins E, K and P. This product strengthens damaged hair from the roots, provides softness and elasticity. Thanks to the hair conditioner from this line, hair will regain their healthy gloss.
Balmain Hair Revitalizing Line – hair mask
The dessert after the shampoo and conditioner in Hair Revitalizing Line is hair mask. Concentrated formula of the cosmetic is the final improvement to the hair structure. The composition of hair mask is rich in concentrated nourishing substances providing hair with deep moisture and elasticity. The fact that Balmain Hair Revitalizing hair mask is left on hair for a longer period of time than the conditioner gives time to the active substances to be absorbed by the hair and to more effectively influence deeper hair structures.