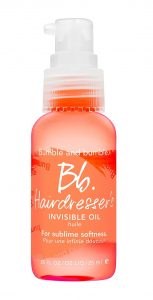 Bumble and Bumble is known for creating cosmetics recommended for hair care. This time the brand offered hair maniacs oil, Bumble and bumble Invisible Oil. The product is designed for curly hair.
Why should you use it?
The main task of Bumble and bumble Invisible Oil is to moisturise, smooth and soften our hair. Additionally, it emphasizes curls, helps in the care of wavy hair and facilitates styling your curls. What is more, the product strengthens, prevents frizz and static and makes brushing easier. Daily styling the curls becomes easier and faster, and you will be able to say goodbye to knots and tangles once and for all. Bumble and Bumble Invisible Oil contains essential oils: grape seed, sunflower, almond, macadamia, argan and coconut. All of these components will take a comprehensive care of your hair and nourish the scalp. They contain vitamins, minerals and compounds to combat free radicals and many other substances that affect the condition of hair and scalp.
In addition, they protect against the sun, the action of hairdressing equipment and mechanical or chemical means. Therefore, if you use Bumble and bumble Invisible Oil every day, drying, colouring, sunbathing and other treatments will not worsen the condition of your strands. See it for yourself!
How to apply Bumble and Bumble Invisible Oil?
Just apply a small amount of Bumble and bumble Invisible Oil to obtain satisfactory results. How to do it? Apply the cosmetic on wet strands, and then dry, comb or style your hair. No style will be a challenge for you. Do you have dry and damaged strands? If you would like to moisturise dry hair ends, then use the oil after each wash. Rub it carefully in wet strands and wait until they air-dry. Remember not to dry hair with hot air – this way could only harm your hairstyle. The first results should be visible at the beginning of the treatment. You will definitely be pleasantly surprised.
Is it worth recommending?
If you have curly hair or you like to create waves or curls and the ends of your hair are splitting? Then Bumble and bumble Invisible Oil is just for you. The product will perfectly nurture your wisps. strengthen follicles and rebuild the damaged ends of the hair. The cosmetic comes in a 100 ml container. This amount should be sufficient for several months of treatment. What is more, you must remember that the more applications you perform, the better Bumble and bumble Invisible Oil will take care of your hair. Moreover, in this product range you will also find conditioner, shampoo and a mask. Using all cosmetics from Bumble and bumble will bring excellent results. The ingredients contained therein are perfectly complementary, providing your hair and scalp with a complex treatment.
Advantages:
Includes six plant oils
It is recommend for curly hair
Nurtures and conditions
Easy application
Effects are quickly visible
Disadvantages:
Not recommended for straight and thin hair
Too strong scent