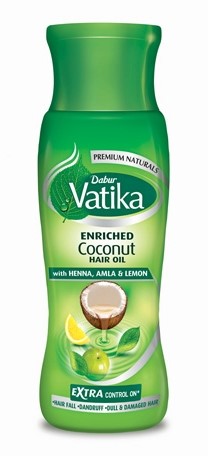 Indian Oil Dabur Vatika is recommended for the care of normal hair and dry, sensitive, normal and oily scalp. It was created according to the recipes used in Ayurveda, or Indian folk medicine. It certainly provides the effects what you always wanted.
Why should you use it?
Coconut oil for hair from Dabur Vatika has moisturising, soothing, regenerating and strengthening effects. It makes hair prettier and healthier. It helps fight dandruff and soothes irritation. The cosmetic regulates sebum secretion and prevents the growth of bacteria responsible for infections and dermatological diseases of the scalp. It protects hair from harmful factors from the external environment, enhances natural hair colour, improves shine and nourishes. Additionally, it protects from harmful UV radiation, pollution and free radicals. Dabur Vatika oil is comprised of the following components: neem, brahmi, amla, lawsonia extract, milk, coconut oil, rosemary oil and lemon oil.
Most of them are the characteristics of Indian folk medicine and are very often used by Indians. These plants are used as cosmetic ingredients popular in hair salons in India. They have strong moisturising, smoothing and polishing properties. To make hair soft to the touch and prone to styling. Now you know the secret of all Bollywood stars.
How to apply Dabur Vatika coconut hair oil?
Remember that only systematic use of the product will bring satisfactory results. Oil must be used at least once a week. Apply it on the entire length of your hair, focusing on the ends and scalp. Such treatment will work, even for people who are struggling with overproduction of sebum or very sensitive scalp. For best results, you should conduct hair oiling treatment – a method of nourishing, very popular in India. Apply a greater amount of the cosmetic on the hair and leave in for several hours. If your strands require a comprehensive regeneration, leave Dabur Vatika in overnight and wash it off in the morning. The treatment of oiling hair can be accomplished in several ways. The cosmetic can be applied to dry or wet hair before applying a mask or a conditioner or as an addition to masks or conditioners. Which method will be your favourite?
Is it worth recommending?
If you are using cosmetics with natural ingredients, you live in harmony with nature, you use products with therapeutic properties, then coconut oil from Dabur Vatika is the right choice for you. It will rebuild damaged hair, regenerate scalp and beautify every hairstyle. It is an ideal product for oiling hair. If you start using coconut oil from Dabur Vatika today, shortly, you will be able to notice that your hair is much nicer and more beautiful. As one of the few hair care products gathered in this ranking, it was not equipped with a pump for easier application. However, girls who care about their hair will certainly not have any troubles coping with it. The packaging is closed with a click.
Advantages:
Moisturises and polishes
Protects ends before splitting
Smooths hair
Natural composition
Nourishes and regenerates the scalp
Disadvantages:
Specific scent
Poor availability
Not very efficient
No pump or pipette included in the packaging