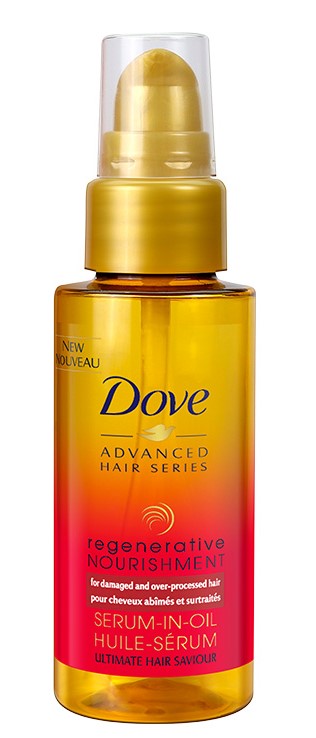 Dove Serum-In-Oil is recommended for the care of both internal and external structures of the strands. It is designated for normal, dry and damaged hair. Despite a small package of the oil, it is very efficient, and the double formula deeply nourishes hair and scalp. Check out what effect this product has to offer.
Why should you use it?
The cosmetic from Dove is a combination of serum and oil. Serum affects the hair from the inside; It nourishes the hair bulbs. While oil smooths and polishes it from the outside. With Dove Serum-In-Oil and the hair and scalp are thoroughly manicured. You also have the assurance that your wisps have been nourished from roots to ends. Oil adds gloss and it has moisturising, smoothing and regenerating properties. gentle formula perfectly matches all hair types. People who have straight hair or curly, thick and thin, dry or normal can use Dove Serum-In-Oil. Just remember that the product is especially recommended for sensitive and dry scalp. Cosmetic perfectly restores split ends. Thanks to it, your wisps will obtain proper condition.
How to apply Dove Serum-In-Oil?
The use Dove Serum-In-Oil is really easy. Just a small amount of oil is enough to deeply nourish and nurture hair and scalp. The size of the dose match to the length of strands and how much they are damaged. Apply the cosmetic before washing, on dry hair or immediately after washing the head. Dove Serum-In-Oli should be applied from mid-length strands, or just on the ends.
The product is immediately absorbed. What is more, the cosmetic does not stick hair, does not cause oily scalp, does not stain clothes. Brushing, drying and styling hair becomes easier and faster. Oil protects it against heat and protects the outer layer of strands and provides smoothing and moisturising properties.
 Is it worth recommending?
Dove Serum-In-Oil can be bought in every drugstore, however, it is also available in many online stores, as well as stationary salons. Another advantage is that it is quickly absorbed and smells good. Its beautiful aroma coats long hair. If your hair is damaged from hot styling or you have split ends, this cosmetic is for you. It will successfully take care of your hair and make it become stronger, healthier and more beautiful. Just remember that incorrectly applied, it will not treat your strands. Therefore, make sure to follow the instructions on the packaging. The cosmetic is not recommended for fine or short hair. If you wear such hairstyle, you should not impose Dove Serum-In-Oil. This could weigh your hair down and make it greasy and not very fluffy. Unfortunately, it does not improve the condition of dry hair. It comprises paraffin wax and fragrances, which may cause irritation.
Advantages:
Availability
Nice smell
Adds shine
Facilitates combing
Disadvantages:
Small capacity
Inappropriately applied provides no effects
No sufficient care for dry hair
Recommended only for thick and dense hair