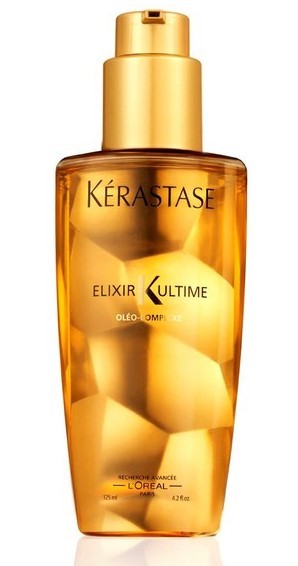 Kerastase Elixir Ultime hair oil is a cosmetic for special tasks. On one hand, it nurtures and beautifies, and on the other it protects and nourishes. Additional advantages of the product are: easy application, natural composition and beautiful scent. Check yourself whether this cosmetic will suit your needs.
Why should you use it?
Kerastase Elixir Ultime hair oil has antioxidant properties. It protects hair against free radicals and prevents premature graying and hair loss. The product provides softness and shine. Additionally, it protects colour-treated wisps against colour fading and drying. The nutrients contained in the Kerastase Elixir Ultime oil care about the condition of hair and scalp. The product smooths the outer structure of the strands, helps combing and facilitates styling. Tames even the most unruly strands, accelerates blow-drying and make heat styling easier. Prevents frizz and static. It contains as many as four natural oils: corn, argan, camellia and pracaxi. The first one provides nutrition and rerilience.
Argan oil is rich in vitamins A, D and E; it also has protective effects. Pracaxi oil improves immunity and oil, while camellia oil adds shine and gloss. The combination of these components provides better protection of hair, more nutrients and active ingredients have the chance to penetrate hair providing optimal care.
How to apply Kerastase Elixir Ultime?
Just a small amount of oil is enough to make hair become beautiful and healthy. Kerastase Elixir Ultime hair oil can be applied to wet or dry hair on their entire length or only on the ends. The method of application depends only on your personal preference, choose the one that will not cause you any trouble, take less time and bring amazing results. After about 30 minutes wash Kerastase Elixir Ultime oil off with a gentle shampoo. Keep in mind that if you apply a preparation with the content of highly purifying substances, you could wash off all the valuable components of oil. After shampoonig, blow-dry your hair using a tool with the function of ionization. If your hair is severely damaged and you have irritated scalp, limit the use of devices that generate heat.
Is it worth recommending?
Yes, of course. Kerastase Elixir Ultime is recommended especially for those who often style hair with blow-dryer, straightener or curling iron. The product perfectly protects the strands and ends. Oil can also be used by those whose hair is damaged by various styling treatments. Kerastase Elixir Ultime will nurture hair damaged by colouring, perm, frequent straightening or drying. Additionally, it will deeply moisturise hair on which you used too much styling cosmetics (such as varnishes, waxes, gels). One pack with a capacity of 125 ml is sufficient for several months of treatment.
Advantages:
natural composition
Easy application
Nice smell
Nurtures and nourishes
Disadvantages:
Includes silicones
Hair 'gets used to' the effects of oil
Inappropriate applied oil will not bring results