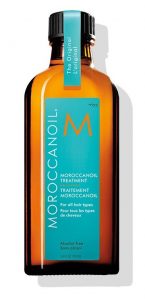 Oil MoroccanOil Treatment is recommended for damaged hair, weak, difficult to comb and lacking lustre. The product contains argan oil, the most valuable of the components in hair care. Will it help you as well? Start your treatment today and after less than a week you will see the first results.
Why should you use it?
MoroccanOil Oil Treatment is a cosmetic for special tasks. It improves the condition of hair and strengthens hair follicles. During the treatment, you will notice that your hair almost do not fall out, the ends are not split, and the wisps are healthy and beautiful. Oil also facilitates styling and brushing and accelerates drying. Moreover, styling will be much easier, and you will be able to freely do your favourite hairstyle. MoroccanOil Treatment has antioxidant properties, protects hair from free radicals, slows ageing processes of the scalp and hair. It allows you to enjoy strong and healthy hair for a long time. Thanks to this cosmetic, your hair is smooth, nourished and well-maintained.
We owe it all to argan oil contained in the product. It is considered the most valuable nutrient, widely used in cosmetics. How should the owners of blonde hair take care of it? MoroccanOil has in its offer a product especially designed for light and thin hair. It brings the same excellent results as the product wich is intended for brunettes.
How to apply MoroccanOil Treatment?
The application is a bit complicated. Before you use MoroccanOil Treatment, you must insert a pump into the bottle. The manufacturer has not provided it in the pack; before the first application, it must be screwed onto the container. The rest of the application should not cause any more problems. And how to apply MoroccanOil Treatment? On towel-dried hair apply no more than one or two pumps. Remember to match the amount of oil to the length of your hair and to the kind of care that it requires. Leave it to air dry or blow-dry it using a round brush. What is more, MoroccanOil Treatment can be used on dry hair or only on the ends. This method of application will provide in-depth hair hydration and recovery. If you want even better results, mix a few drops of oil with facials masks offered by the manufacturer. This way, you will strengthen the effects of both oil and other cosmetic treatments.
Is it worth recommending?
MoroccanOil Treatment is recommended especially to those who have dry hair and split ends. If you are one of those people, do not hesitate any longer, just start the treatment. After a few applications, you should be able to notice first results. Argan oil, which is one of the most valuable components of the product, provides strengthening, nutrition and improves health of your hair. Are you in need of immediate regeneration? Make sure to try out the MoroccanOil Treatment. You will certainly not regret it.
Advantages:
Includes argan oil
Protects hair against mechanical and chemical damage
prevents premature graying
You can use on dry and wet hair
Large capacity
Disadvantages: